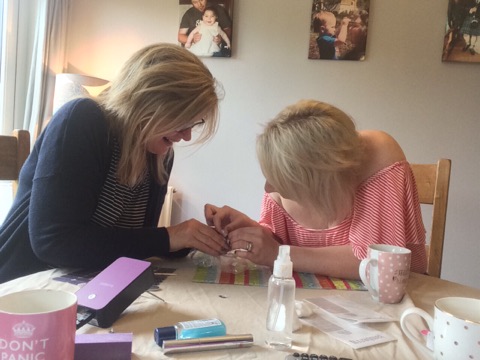 Nailed it!
Kat nailed the look, Mae nailed the application and I nailed the coffee.
Top quote - 'Do not fear the gap Mae'
What a lovely Thursday in the Madhouse.  I introduced 2 friends to each other in a swimming pool recently, chat turned to nails and we all decided to meet up today at my house to 'do nails' - we are so girly!  
Mae arrived with bags of hand me downs - I LOVE HAND ME DOWNS and Kat arrived laden down with girly crap.  After half an hour of the Dude introducing each of his teddies and dominating the room, I did some A1 parenting and offered him some Ipad time, which of course he gladly accepted.    
My disgustingly glamorous friend Kat runs her own Nail wrap business and offered to show Mae how its done.  Highlights of application tutorial include; The 'baggie method', prep, pressure, re positioning and vodka (sounds like an orgy I know, but I can assure you its all very decent).  
Mum chat and coffee galore before Kat skipped away to see her next group of clients, Mae and I had more tea and I remembered that I had a child in the house to parent/remove the apple device from and deliver to nursery! 
I am aware that none of this is particularly exciting to anyone besides the 3 of us, however, Mae's husband created my website and I was instructed to write a 'Mae is getting her nails done' blog.  So here it is.  
The most exciting thing for me is that Mae is hosting a party for Kat to show off her wraps to her friends, I am invited (demanded an invite) and I suspect there will be wine there.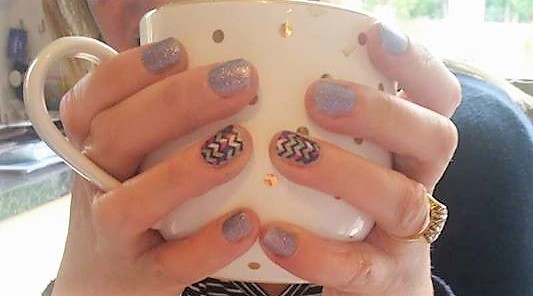 I present to you the finished article.  
These babies are sparkly, beautiful, hardy and will last for a fortnight.  
Enjoy your holiday Mae, I hope that you think of us every time you sip sangria with your beautifully manicured hands.
Oooh Sangria, lets make some for your party!