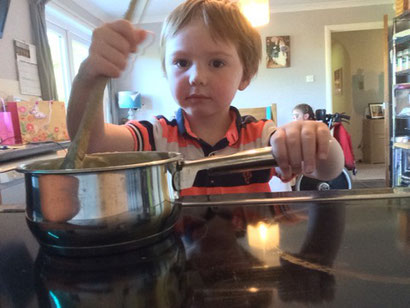 One of the things that makes me feel super happy is when we all eat the same (or as close to the same as possible) for tea.  This can be tricky because of The Dude's food issues but this meal was requested by Miss A and everyone ate really well and even sat at the table together - WIN!
So Just thought I'd share our version of Macaroni with you.
Whats in it...
Fat - this would usually be butter but we use vitalite as its safe for The Dude, you could also use an oil instead if necessary.
Plain flour - we are safe with regular flour so I don't know if this would work with an alternative but you could give it a go.
Liquid - we use Oat milk for this but most milks would work, or you can even use stock.
Seasoning - we just add pepper and nutmeg but if you had Mustard powder that would be nice too.
Additions - we usually stick in some bacon, cocktail sausages or gammon as they are safe for The dude and taste good.  I add some Extra Mature cheddar for Miss A and I because the white sauce is a bit boring for our taste buds.  
Boiled Pasta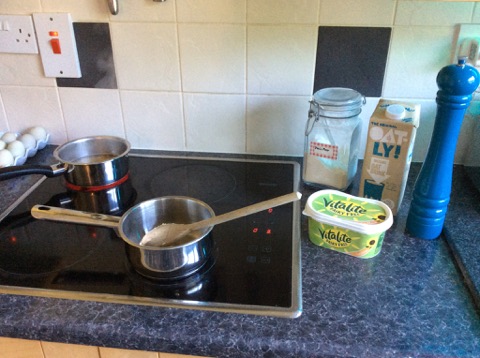 What do I do...
Honestly its so easy.
Melt your fat (I wish) so just stick a table spoon or 2 (depending on the amount of sauce you need) of what ever fat you use in a pan and melt it down gently.
Still on the heat, chuck in a couple of table spoons of plain flour and mix into a 'Roux' basically it should look a bit like play dough and all come together.  If it goes dry just add a little more fat to it, if its too wet sprinkle in more flour till its right.
Once you are happy with the consistency of the roux (have a wee look at the pictures below for a guide), splash in some milk, I use a whisk or spatula to mix through till smooth, keep adding milk over the heat and allowing to thicken before adding more as you need to until you are happy with the thickness of the sauce.  If its too think just crank up the heat and wait till it thickens a bit just make sure you are always stirring so it doesn't burn.  
Stick in what ever additions you want.  This is the point where I separate some for The Dude and add cheese for us to the remainder.
That's it!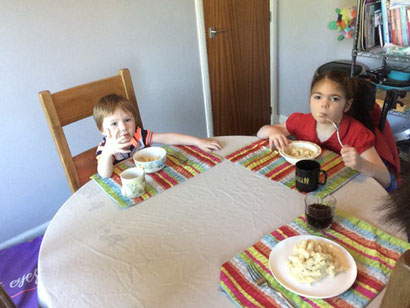 My kids eat so much better when we all sit together at the table and share the same meal.  Its such a nice way to slow down your day and catch up on whats been happening.  
I really love it when my kids get involved with cooking because one day I might come home to find  tea on the table!  I fully expect to also see some up the wall.