Long awaited by some, this is my version of Patatas Bravas, we call it Tatties Bravas.  
We like this cold as much as we do hot!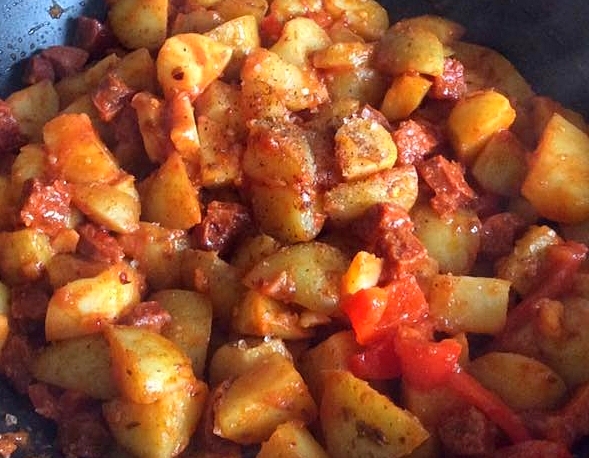 Whats in it...
Bag of small/new potatoes
Olive oil
4 Garlic cloves
Chillies fresh or dried
Cumin seeds
Paprika
Red wine vinegar
Red pepper
Sea salt
Chorizo sausage
Passatta
What do I do...
Wash the tatties and slice up then boil in salted water for 10 minutes. Then drain.
Slice the whole chorizo sausage and warm in a large pan to get the oil to come out.  Add a little olive oil if you need to and fry the tatties in the oil until they are taking on a bit of colour.  
Use a pestle and mortar (or a bowl and end of a rolling pin if you haven't got one) to mash up your garlic cloves (you can use easy/lazy garlic if you want to) add half a fresh chilli or a teaspoon of dried chilli flakes, add about a table spoon of paprika, a teaspoon of cumin seeds and mash up as much as you can.  
Mix in about 3 table spoons of the vinegar and about 5 table spoons of pasatta.
Add this paste along with the sliced red pepper to the tatties.
Cook for a few minutes till everything is warmed through then serve sprinkled with some seal salt. 
Let me know if you try this, what you think of it and share your photos too x