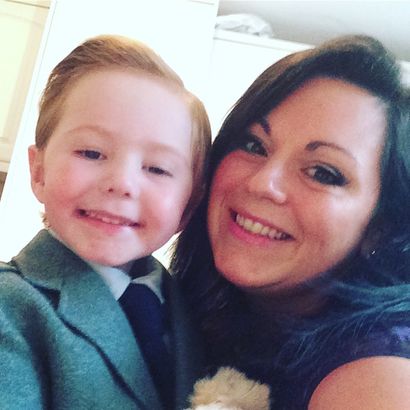 Earlier in the month The dude and I traveled to Edinburgh for my friend's wedding.  Congratulations again Andrew and Mike!
We had an amazing time!  Their reception was so well planned.  Band were great, food was delicious and the most awesome and beautiful venue.  After being married in the Magical Kingdom they stayed with their Disney theme making it extra fabulous.  Selfie station with Mouse ears and props a plenty was another special touch and the cake was so so yummy I just don't have enough positive adjectives to continue!
The dude was super excited, while we were getting ready he kept asking 'when can we go to the wedding?'
We arrived at the gorgeous Ghillie Dhu and despite clearly being at a wedding he was still asking when we could go.  I didn't really understand what he was on about so I just told him, 'we ARE at the wedding darling' he got grumpy and a bit sulky.   
As I tried to get to the bottom of what was up with him I was glad the band had started playing and that they were loud when he shouted to me, ' I want to go to our normal wedding not here!'  I bent down and said slowly, 'what exactly do you mean young man?' The reply made perfect sense, 'OUR wedding mummy, at the A-CORN-CEN-TRE! UUUURGH' As he stamped his tiny brogue shoe and threw his hands in the air.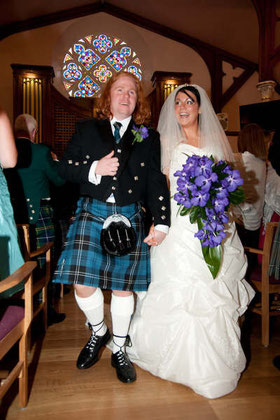 Now I get it, the Acorn Centre is part of the church where his daddy and I got married.  We love to go there for coffee or lunch.  Afterwards, sometimes we nip up stairs to the church and pretend to get married.  We just stand where daddy and I did and promise to love each other forever then walk down the aisle.  We have only done it a couple of times and to be honest I didn't even think it registered with him much.  However, with all the build up to the wedding this is what he had imagined, his kilt was the same as Daddy's and because Daddy and his sister couldn't come he thought he was taking daddy's place and marrying me.   Right, ok wee man, this is not our wedding it's is Andrew and Mike's but if you have fun at this wedding, when we go home I'll take you to the Acorn Centre in your kilt and we will go up and get married again, ok?  This plan was deemed acceptable and so he and I danced until he passed out at 9pm.  Quite early for him especially when a party is happening but we found him a corner to snuggle up in while I caught up with friends from a lifetime ago!
Our taxi arrived and I wished someone had been there to take a photo of my 3 year old son and I stumbling across the cobbles of Edinburgh at 1 in the morning.  Of all the times I did that I never ever thought I'd be doing it with my own child!  I yawned as I buckled my seat belt and was advised, 'if you are tired mummy, just have a snooze in the car' as his eyes fell shut.  Thanks dude.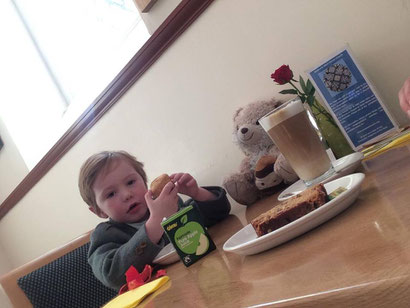 So, today was the day.  The dude got kilted up again and I wore a dress, not the one he wanted (a pale pink tuille one with beading and sparkles - 'this is an Acorn Centre Wedding dress mummy and you need your diamond crown!') being that it is a Tuesday morning and we are going to a cafe we settled on a plain grey dress and a sparkly hair band.  Phew!  
We walked through the town centre from the car and it was clear to see that all the ladies love a wee Scotsman in a kilt!  Not a huge fan of attention he played shy when he was told how smart he looked and the requests for twirls were rarely met with approval.  
We were greeted and served - I just can't tell you how warm and friendly this place is, its really special.  They are always kind and accommodating, the place is full of smiles.  Its not just a nice place to be though, the food is so good, its all simple but really well made, especially the cakes!  So we had our snack and were taken up in the lift to visit the church. 
Chairs all cleared and the place was full of toys!  The Mainly Music toddler group was on, AMAZING!  Forget getting married we will just sit here and play with duplo, everyone was super friendly and loved our wee story so we got to stay and join in.
Yes  its all a bit silly, it made him really happy though and do you know what, he is newly 4 years old, I don't expect this level of adoration to last forever.  So while its there I'm grabbing every cuddle, kiss and wedding I can from my son before he grows up and is getting actually married to a person that's not me! x