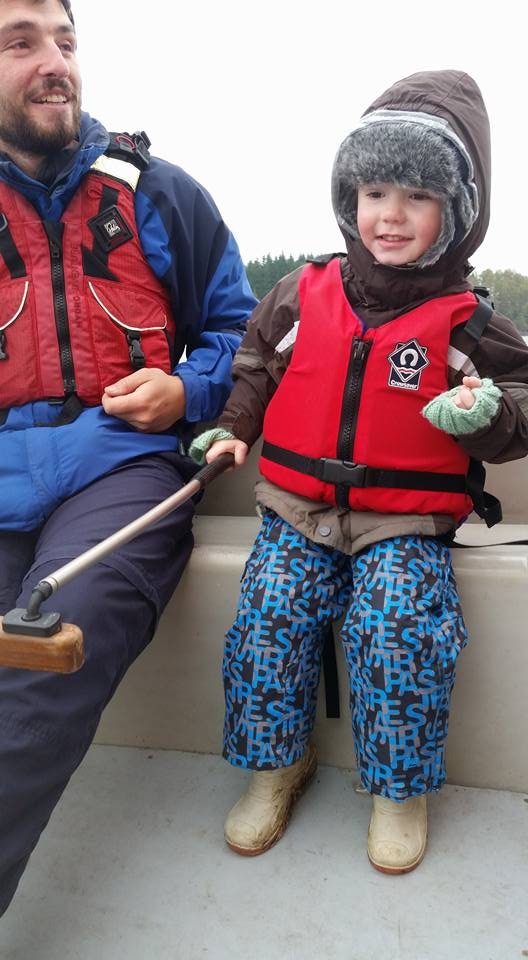 Day one at Keilder, we got up we got cosy and we headed off to the water for a sailing trip.  Although we have been to Keilder a couple of times before we haven't been sailing yet so this was extra exciting for everyone.  The boys were excited to go on a ''Pirate ship' can you imagine the squeals there were when the sail boat only had a bloody skull and crossbones flag on it!  Delighted and kitted out in life jackets we climbed aboard.    Kat quickly learned that the stern is at the back of the boat and the pointy bit is the front.  The dude was delighted to be at the helm and enjoyed taking directions from Captain David.  The mums worked the ropes and the kids watched the water closely.  This bliss lasted for about 5 minutes then Miss A decided  that she wasn't happy being secure and safe in her seat and so came out for a minute.  Big mistake Mummy!  After realising that she was not going to sit nicely on my lap or on the bottom of the boat but was going to behave like a suicidal wrecking ball determined that the boat would sink if she didn't throw EVERYTHING AND EVERYONE overboard.  I eventually persuaded (forced) her back into her seat and our brilliant captain basically trash talked with her for the remainder of the journey which kept her cheekily giggling with every threat of 'chucking in the water' he also sang lots of songs which is one of her favourite things to do, thank heaven for David!  We looped and swooped round the water mainly retrieving things that had been thrown out.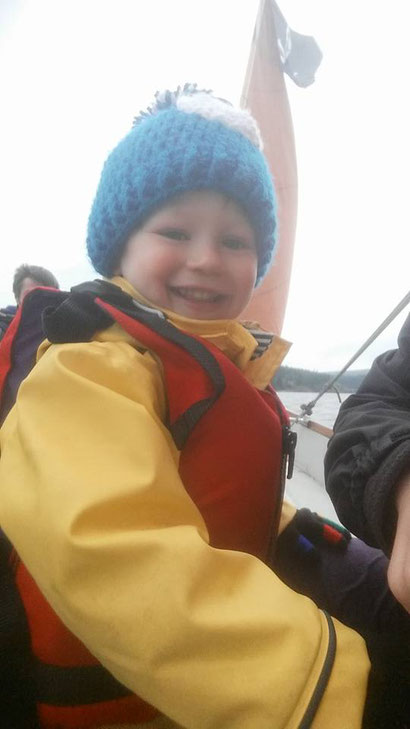 One of the nice things about going out on the boat is that you get to stop for a wee fly cup half way through the activity!  The Dude had been demanding to see a waterfall but we found some Forest art on the shore to look at and stopped there.  We all got a nice warm drink, Little Miss independent wouldn't let me help her drink from the cup even though her life jacket made it super difficult.  So she poured lots of her hot chocolate down her neck, didn't really matter because she was in waterproofs but she wanted more.  Her wee chum was super kind as always and said he would share, he handed her the cup to have a sip.  He watched and waited patiently then said 'my turn?'  With a heart of ice she looked at him and tipped the whole cup over her trousers and laughed uncontrollably.   Adults hid their faces in their jackets and sniggered while the boys were just horrified and the injustice of it all.  
I was outraged but, I have known her long enough to know that a telling off wouldn't stop it from happening again, it wouldnt bring the hot chocolate back, it wouldn't even make her say sorry but would ruin the remainder of our Pirate ship experience.  So I let it go with an eye roll and a 'that is not kind'
Poor little toot, how could she do it to this wee face!
Best quote of the day, 'and how old are you wee man?'  'I'M A ROBOT!' closely seconded by; 'did you enjoy that?' 'I'm a Hedgehog'
After food in our chalet and a chill out we bundled everyone down to the newly refurbished hydrotherapy pool, determined to really tire them all out.  Our session was 7-8pm so we got them all in PJs before heading up for bedtime. 
What a great day!