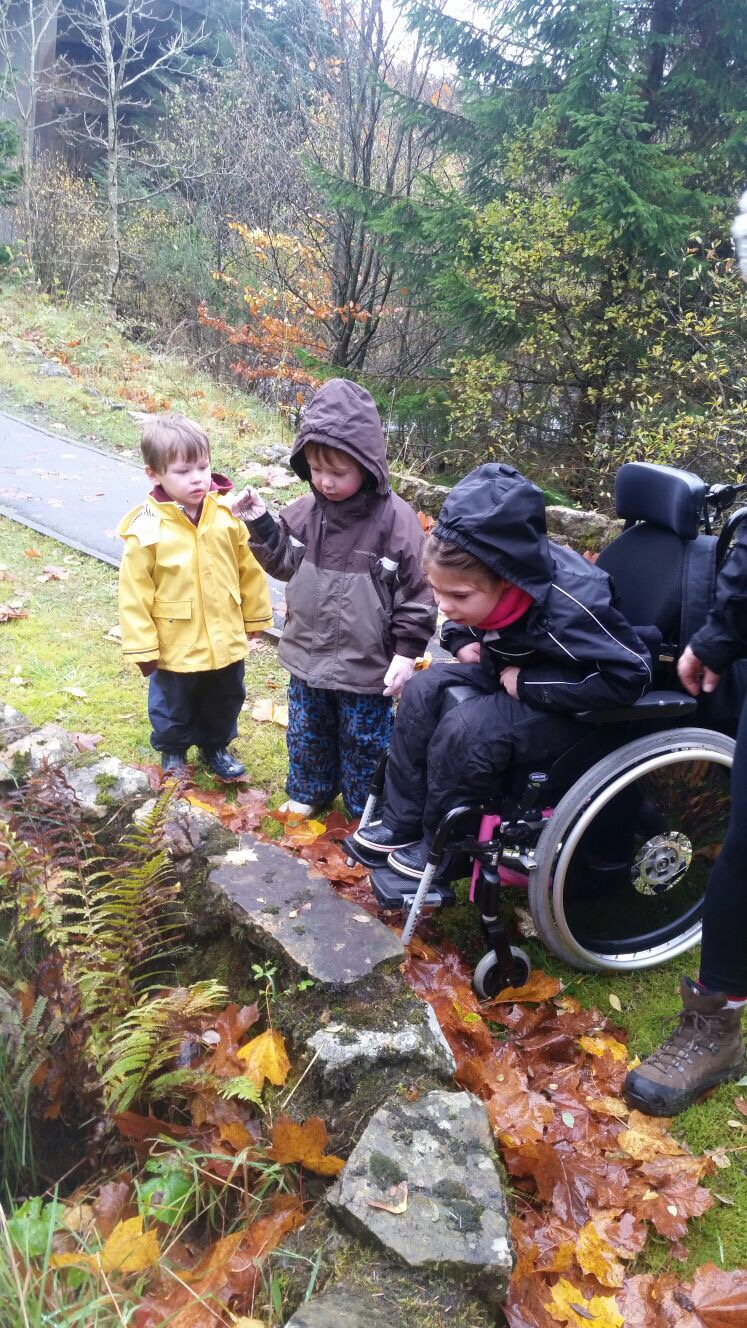 Our last day.  We decided to go for a long walk - amazing for about 20 - 30 minutes then the wee walkers got their grump on!  Miss A was a dream but then she was in her chariot and all snuggled up in ski wear so whats not to be happy about?  We stopped for a picnic, we bribed, we yelled, we coaxed and we carried till we got back to the reception building. 
The kids all enjoyed the waterfalls and bridges we found as well as speaking to the sheep and looking across the water to the boats.  It was sheer misery though for us mums, come on, hurry up, we ARE waiting, why are you walking so slowly?  Not what we had planned  but there were good bits!  Back inside for an ice cream to warm up ?!? Coffee for me instead thanks!
A wee afternoon of sensory fun/napping was lovely.  All 3 kids were so full of fun and affection this week it really showed how much they all enjoyed themselves.  We had our random dinner of everything we had left to eat and then the mums were in packing mode!  Kids all tucked up, cars all packed we chatted about how amazing the week had been and how proud we were of our children. We laughed at their mischief and how we had seen them grow up right in front of our eyes!  We also gave ourselves a wee pat on the back cos we think we are awesome too.
Almost home time and we mums are now in 'get the fuck home' mode.  Kids up fed and in the car we managed to set off home by 8.30am!  WOW we ARE amazing!  Guess what, Miss A was good, like all quiet and peaceful and oh my god!  ASLEEP!  I was feeling pretty damn good and took this photo thinking I could do some kind of, 'you know its good holiday when they sleep all the way home' post.  I thought I was in for a super pleasant trip home, might stop for a coffee, I didn't even have to put on Topsy and Tim.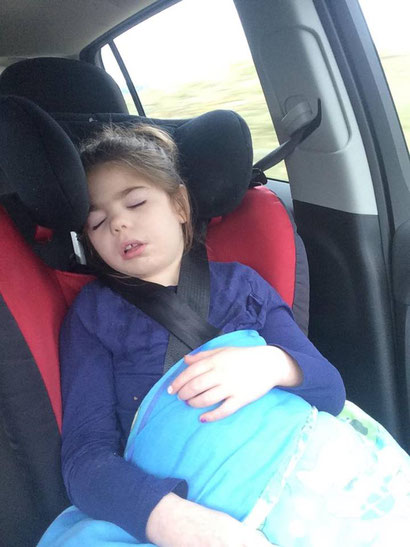 However, my poor lethargic girl wasn't resting because of an active holiday.  She had apparently picked up some kind of bug and two hours in to my blissful journey home she sat up and puked everywhere.  I comforted her, changed her clothes and carried on thinking it might even just be car sickness. 
Nope. 
She was distraught and another 3 bouts of puke later we had ran out of clothes and she was back in her dirty PJs from the night before. The hire car was RUINED and absolutely stinking.  Poor girl.  We dashed home and she went right into a bath she was an awfully sad thing until her Granda arrived to keep an eye on her while I cleaned the car and unpacked our vomit soaked clothes.  
This wee lady is rarely ill so it was a shame to end on that note but It really didn't take away from the wonderful time we had together.  
I also felt very in love with my husband when I came to a warm tidy house with dinner in the fridge!  Bravo Boris! x
Now I can't end this blog post without talking about a charity that has done SO much for our family and many others we know.  Charlie House.  This charity is a small local charity which supports babies, children and young people with complex disabilities and life limiting conditions in the North East of Scotland.  The Charlie House team arrange activities and projects to enable families to gain confidence, engage socially, enjoy activities together, meet others in a similar situation, share information and to receive emotional support when they need it most. 
Charlie House have lifted us when we have felt down (without them even knowing it) they arrange some weekend activities in our area.  These activities tend to be things you might not feel too confident doing alone in case you stand out.  Ice skating with a crowd of 20 wheelchairs is way more fun that just one!  Weekends can be really tough for us but Charlie House activities have always gone well, given us something to focus on and on the odd occasion when Miss A can't cope they totally understand and we just leave.  No questions, no awkwardness just total understanding.  Its a really thoughtful, helpful, friendly charity. 
They do a siblings club too which I can't wait to send the Dude to because siblings really are affect a lot. 
They arrange and fund these annual trips meaning we get to go on this incredible holiday even though we couldn't afford to go ourselves, especially this year after having left work to be a full time carer for Miss A.  Families who haven't been before are always chosen first however, due to the medical requirements and complex conditions of the children in these families there are always people who have spaces but end up unable to attend so often families who have been before get to fill the spaces at the last minute rather than them go to waste.  This has been the third time we have been lucky enough to go and we honestly can not express our gratitude to Charlie House and the team involved in arranging such a perfect holiday.