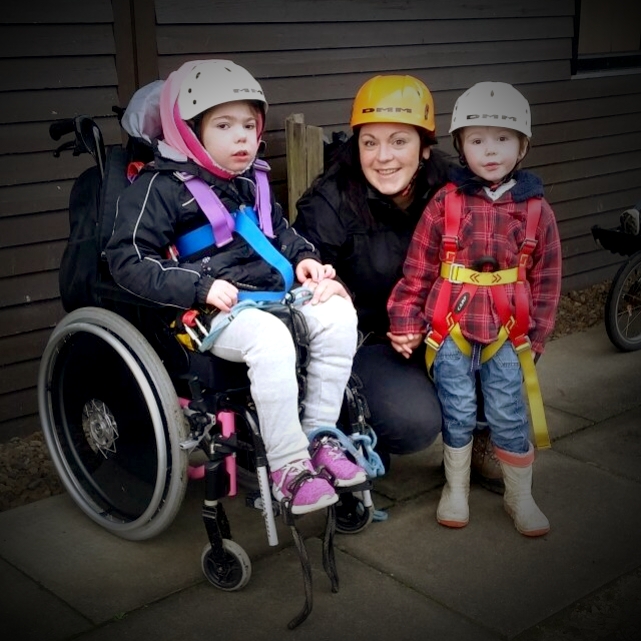 Right, so we were all set.  Packed and good to go.  Sad that Daddy couldn't come with us this time but had managed to fill his place with our friend Kat and her gorgeous little gremlin!
I was mentally prepared for long journey with a girl who detests being in the car.  I moved her to the front seat, set up a 'Topsy and Timathon' to listen to, had prepared my mind and accepted that I would have to listen to Twatsy and Tit the whole bloody 6 hour journey! I didn't prepare for the random vomit, screaming and my excited daughter throwing a full travel mug of coffee on the floor within 18 minutes though! 
Anyway, The dude joined his wee chum in his Kat's car so at least it was only me that had to put up with what I knew would be a hideous journey.  I'll be honest, some of the journey was ok, I got through a good three hours by singing and playing requests of Topsy and Tim episodes or Mother Goose Cub.  Miss A was also quite delighted when she found a packed of cocktail sausages that were meant for her brother so she quietly sat and demolished the lot.  Lots of dramatic 'Oh my goodness you aren't eating them ALL are you? ' and 'OH NO what will your brother eat now?' kept her giggling with glee.  There was however, a LOT of wailing.  The episode she chose was not the one she wanted, the song she requested was not the right one, the food she asked for wasn't what she wanted to eat, I wouldn't let her kick the gear stick or open all the car windows in the rain for more than fifteen minutes - mainly because she threw her juice cup out of the window AGAIN!   
I had one of those sinking 'Iv'e forgotten' realisaions about two hours away from home - I forgot the bedtime music light show!  I thought it was a disaster for about 3 minutes before a quick phone call and my bestie Jane, came to the rescue and picked one up from Asda - lifesaver!
The place we were headed for, Kielder, is in the boarders but really deep in the countryside.  No WiFi, no phone signal, sheep wandering along the road, cattle grid wilderness.  Iv'e been before so despite losing sat nav signal I was confident I could make it.  A sign indicated a diversion was coming up because of a road closure, hmmm cool we will just follow the diversion.  ONWARD...until we came to the closed road, no diversion and had lost about 40 minutes.  Kids were all getting pretty pissed off and fed up of being in the car, I was demented because no signal means no bloody Topsy and Tim and therefor constant screaming.  We will just HAVE to turn round.  FUCK SAKE! 
As we were doubling back on our tracks we meet bestie tearing along the road, we stopped to chat, 'we will have to go back there are cones across the road and no diversion' I was gutted.  'Fuck that' said Jane, 'I'll just chuck the cones out of the way!' as she drives off.  Oh my god this is my nightmare, I can't handle this, what if we get caught! Jeez she is a loose cannon, why am I even friends with her?!?!  I am NOT cut out for this lifestyle!   Anyway I was outvoted and I followed on slowly so I wouldn't have to witness the crime. 
I didn't witness the crime, what I did witness was my friend, having been caught in the act of launching cones into the forest by some kind of official road closure man (well he had a flashing light on his van which makes him the police to me!) Mouth open and eyes wide I watched. I watched my friend talk her way out of a row and into an escorted journey through the closure!  Workmen and machinery MOVE ASIDE we are with the flashing light on his van man!  That's my bestie!  Jane to the rescue, again!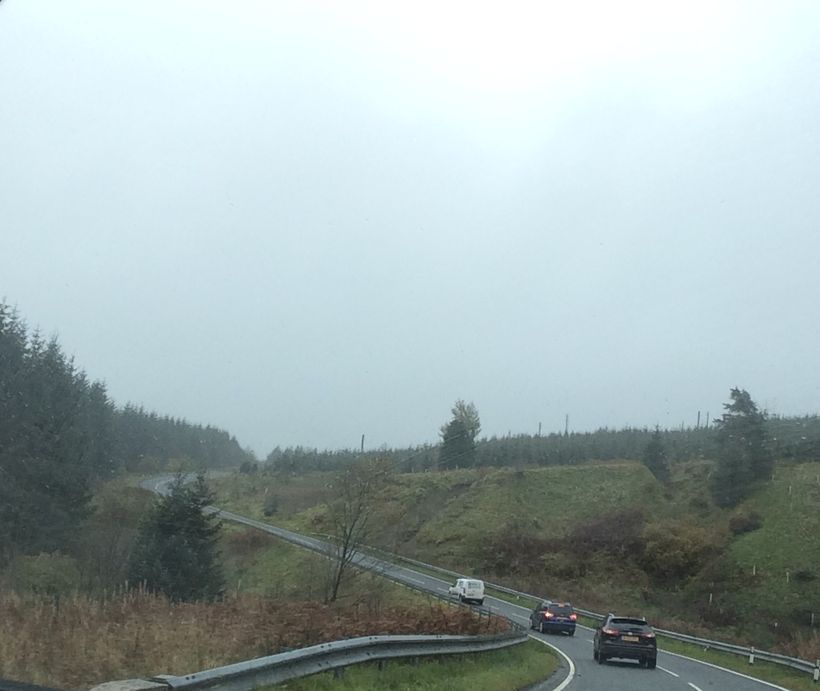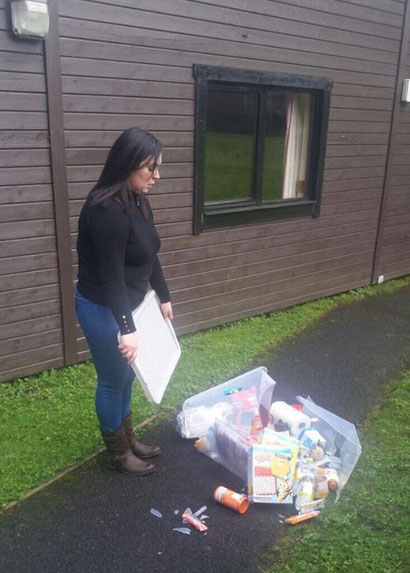 After one more puke, from the dude this time, because of the windy roads and the amount of times we went back and forth along them!  We were there.
It felt good to arrive, it did not feel good to drop my large box of food on the way into the chalet. 
Pfft its cool nothing was broken and my supermarket delivery was coming (that delivery even included ice because who wants a G + T with no ice and lime?) 
After taking 3 and a half hours to get Miss A to sleep (more screaming but this time of the bloody curdling variety) Kat and I settled down for the night with our well and truly earned G+T's complete with ice and lime.