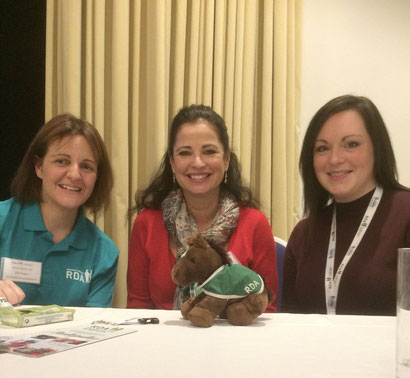 Today I spoke along side Dr Valerie Cooper and the inspiring Alison MacDonald at the RDA (Riding for the Disabled Association) Scottish Supra Regional Conference.  The theme this year was Participation.  Our presentation was entitled, 'What RDA can do for you'.  
There was a wonderful atmosphere all day, 2 conference suites full of volunteers, riders, instructors all waiting to hear what we had to tell them.  It was extremely daunting, until I looked at everyone's smiling faces.  That wonderful atmosphere was a feeling of support, genuine care, interest and unity.  What I felt most was encouragement emulating from the audience and all of a sudden, I wasn't scared.  Plus I was next to one of the most powerful, warm, intelligent women I have ever met, Valerie wouldn't let any harm come to me!   
Alison started our presentation with an inspirational talk about her experience moving from being an able bodied rider who owned her own horse to an RDA participant.    I must admit I was NOT prepared to hear such an emotive and compelling speaker, despite having literally just met her, I felt an overwhelming sense of pride watching her tell her story.  She moved the whole room (mostly to tears) including me.  She had us laughing about pants by the end of it though so I was able to pull myself together a bit.
Then Valerie who is our physiotherapist (for Hippotherapy) and RDA instructor spoke about the science of why riding is so beneficial which I found absolutely fascinating.  I'd love to relay the information to you all but I fear I'd get something wrong, there is so much more to the movement of a horse than foot falls!
So I was up next, its been a very long time since I have done any public speaking and I was the most unprepared I have ever been for anything in my life, family life took over and the time I had set aside to write and practice my presentation came and went.  I did consider cancelling but I reminded myself that no one was going to criticise me, they WANTED to hear our story.  I managed to grab some time to write my speech around midnight before the presentation, all be it on the back of a shopping list, then completed it in the car (while Valerie was calling me wondering where I was).  On the drive in I was feeling extremely nervous because of my lack of preparation, I had left late and been refereeing the kids all morning so I decided to give something odd a go (thinking, it cant make it worse can it!)  As I drove to the venue I repeated very loudly, 'Everyone wants to hear what I have to say, I have a great story to tell'  I also chucked in, 'I am not a mess I look just fine'.  I can't believe I am admitting to having done this but, well, I actually think it helped.  I didn't have time to fully prepare the way I wanted to so I decided to work on my confidence and remind my self why I was doing this terrifying task.  It got me through!
I started by showing everyone this clip of Miss A's first Hippotherapy session (this is physio therapy on horseback). 
She was 3 and couldn't go to regular RDA because she couldn't wear a hat (it would affect her balance too much and the weight would also limit her head control) .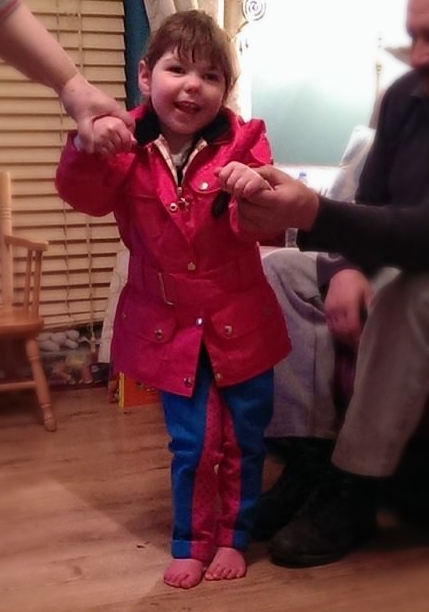 She could barely sit up on the pony, her core was extremely weak which limited her quite a bit in her day to day life.  She could sit up (just) but if you left her on a sofa she would very quickly fall to the side and slouch over.  She needed postural support for all seated activities.  During this first lesson she was very shy, nervous and particularly wary of the head end of the pony.  I had to side walk with her to give her confidence despite having had a C section only a couple of weeks prior.  She tired very quickly and only managed about 20 minutes.  She clearly enjoyed herself though and was full of smiles.  I was glad she has the opportunity, therapy at that point was not on my mind, I just wanted her to have a shot of riding.
After a short block of 6-8 weekly sessions  the difference was astounding.  A phenomenal transformation took place, she became visibly stronger around lesson 3.  I couldn't believe the difference.  Everything we had been working towards  for so long just seemed to come together and fall in to place.  Until listening to Valerie I thought it was magic but it seems there is a science behind the theory! 
We now attend RDA weekly with top ups of Hippotherapy when we can.  She loves riding.  As well as the unquestionable physical benefits of riding it has also encouraged her speech and confidence to try a new word.  The commands are repeated and generally short which is great for her to practice on, the side walkers are so kind and encourage her to speak up.  Her concentration has improved which is a skill that can be difficult to teach.  The focus on the activity and instruction for the duration of the lesson has been really good for her.  Her ability, although perhaps not her willingness, to follow instruction has also developed over time.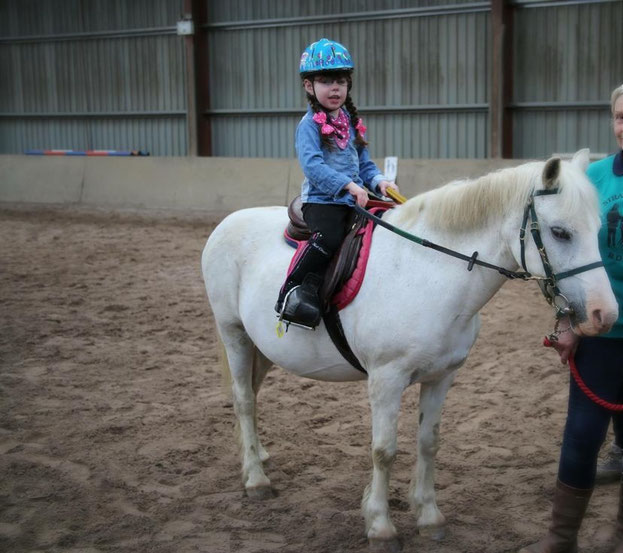 I feel she has a better awareness of her body, even things like being encouraged to hold her reins challenges her to use her hands.  
Riding gives her motivation to push herself where other physio may not.  The pleasure of riding is a huge reward, one that would be hard to replicate in any other type of environment.
RDA is also a social experience, she has formed some beautiful friendships.  Simon is a 57 year old man who rides just before her group.  It used to be a struggle to get him to come to RDA which was a shame as it was his only form of exercise.  One day he met Miss A there and they hit it off, they get on really well and Simon doesn't miss a single week because he wants to come see his friend.  She looks forward to seeing him all week too.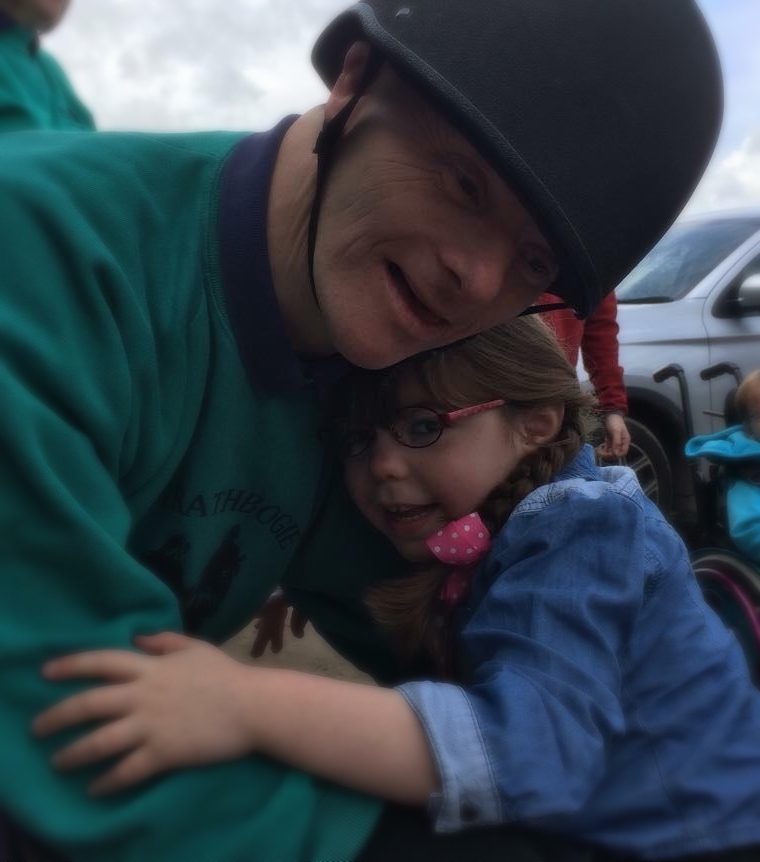 RDA allows Miss A the opportunity to achieve.  She has ridden in front of Princess Anne, appeared in our local paper a couple of times, won trophies and rosettes, gained grades in horse care as well as riding, all of which I find absolutely thrilling.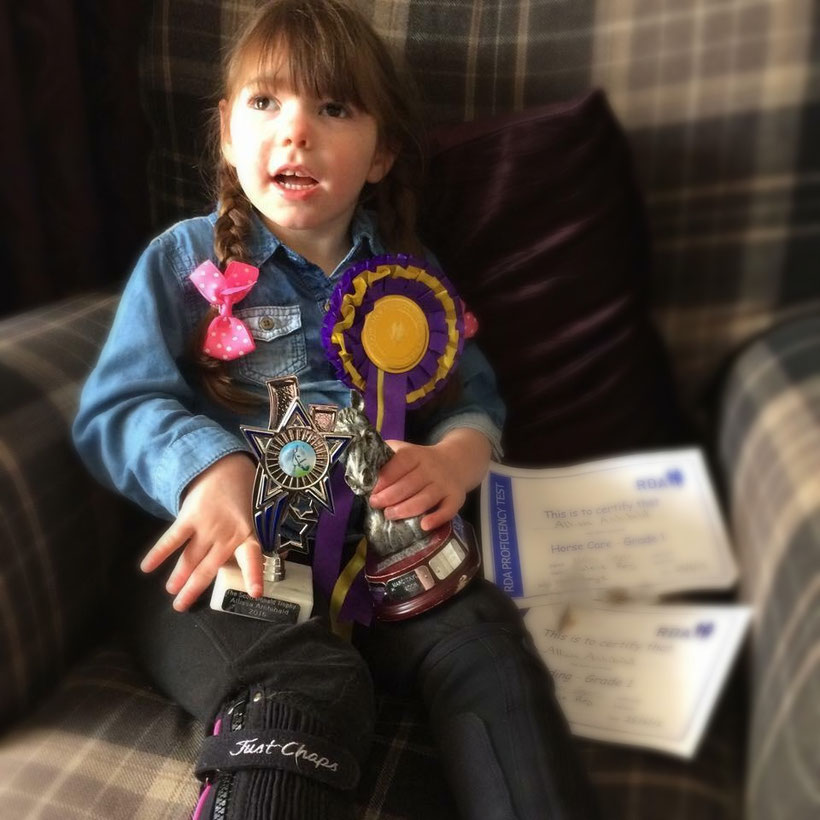 Parents always hope to share their childhood experiences with their children.  I rode as a child and wanted to share my love of horses and riding with my daughter, when she was born it didn't seem that would be possible.  Watching her ride and seeing how strong it makes her, even washing her jodhpurs is just such a pleasure for me because its something I thought I'd never get to do.  
Undoubtedly, for her father and I, therapy aside, the biggest thrill of all is seeing how happy it makes her and watching her enjoy every minute of it.  
This video clip was captured about a fortnight ago, there is quite a difference between her ability now and back on her first lesson.  The clip is of a Hippotherapy session - when she attends RDA she uses a saddle and the focus is on riding and rein skills.  
Something else that always strikes me when watching her ride is that, its the time when she looks at her most confident and up there on her pony, to me she looks independent, as a parent that is very special to see.  
Everyone was very kind and lots of delegates spoke to me asking lots of questions about our girl.  I had a fantastic day, lots of delicious food too.  I had to run off home to relieve my Dad from his baby sitting duties so I missed the afternoon speakers which was a shame but I really felt honored to have been part of such a great event. 
I hope that one day Miss A will be speaking for herself alongside Valerie, about her journey from Hippotherapy to RDA and how it continues to benefit her and bring her enjoyment.