Finally sitting down to draw breath after a crazy weekend that was a little crazier than I realised it was going to be.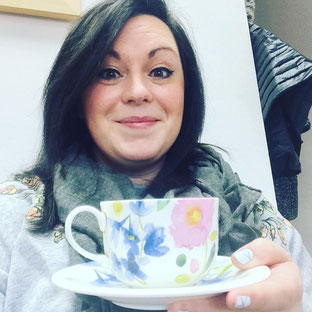 Friday afternoon started with my super amazing mum treat of a pedicure at Absolute Beauty courtesy of Charlie House.  Such a nice thing to arrange because I would never priorotise spending money or time getting a pedicure but every time I look down at my toes I smile instead of cringe now. Brilliant start! 
Friday night plans involved FIRST ever sleep over for our wee Hedgehog friend Douglas, Miss A stays at her Grandparent's on a Friday now so it seemed the perfect night to try it out.  I was so excited to give the dude a night of fun with his pal and also I really love our wee hedgehog he is so much fun to be around with a smile that could melt anyone's heart, total charmer!  Douglas and I collected the Dude from nursery and headed home for a night of hilarity, they played in the snow while I cooked tea and they just had a blast.  Inside for some winter comfort food, sausage and mash then a warm bath and PJs on.
I admit, I had forgotten that I agreed to help at the school Christmas fayre on Saturday but decided that was cool and I'd just go along with my 2 little helpers.  Things got a bit scary though when the respite club Miss A attends every second Saturday called to say that unfortunately due to sickness the club was cancelled that week!  OH MY GOD, ok, it will be fine, it will have to be fine, right Boris will be home and she can stay with him and if he is not home she will just have to come too...god I hope he is home!   
Next thought, shit, we also have friends coming for dinner on Saturday night, meaning cooking and cleaning is required AAAAARGH.  It's cool though they are good friends so if all else fails we can sit in a minging house with a takeaway and drink till I don't care anymore.
Bed time on Friday went pretty well considering, both little boys were sleeping by half 7 all snuggled up in their wee beds.  Well done me AND Boris got home at a decent time, so I whipped up some fajitas and chilled out by the fire with him feeling more relaxed than I probably should.
Saturday began at 05.30 which I expected, I tried to entertain the wee dudes in the living room to let Boris get a decent rest, screams of 'HULK SMASH' and arguments over a crappy plastic kids broom may have disturbed him though.  When he got up I got my priorities straight and made the sangria for that evening.  Right I'm basically ready so I'll just have a shower and go do my Christmas fayre, the boys were all festive in Christmas jumpers and by complete chance also had matching navy duffel coats which looked super cute!   Struggling to find anything properly festive I wore my grey slightly sparkly snowflake jumper and stole a red bow from Miss A's collection for my hair.  Off we went, now, I normally avoid Christmas fayres etc... because Miss A just can't cope with these weekend things, she gets too worked up and ends up having a major meltdown either during the event or afterwards at home.  In my mind I imagined a peaceful morning market style fayre with people perusing beautiful homemade gifts at the stalls at quite a gentle pace.  How wrong I was!  The place was PACKED, I almost managed to get a wee look around before I manned my stall but I was so concerned about losing a small child, one of which wasn't even mine that I thought best to lock down a location and stay put.  Also The dude was so excited that he kept grabbing my boobs to excitedly tell me what he saw (best way to guarantee mums attention in public is double handedly grab her boobs while she tries to talk to someone). 
The fayre was so well organised though it was actually brilliant, our parent council did a fantastic job, so much work was put into the event.  Loads of game stalls as well as hot food, and some beautiful home made craft and gift stalls.  My wee disc drop stall was as busy as all the others, I don't think I had a quiet second the whole hour I was there.  Another amazing idea the PTA had was to have all the volunteers do an hour each - GENIUS - no one got pissed off or fed up and I'll totally do it again next time!  Douglas' parents met us at the fayre and took both boys while I did my hour so all worked out pretty well, the boys got to meet the big man in red in his ace wee grotto and were pretty delighted, meaning I didn't lose a child and could concentrate on adding scores up to 8 to see if a balloon had been won!  No time to hang around though I knew I had loads to do at home so we peeled the boys apart and headed for our cars, scoffing a delicious chocolate cupcake Kat had bought me in the car to keep me going.  Arrived home to find Daddy and Miss A dusting - brilliant so all I have to do is cook!  
List of things to do - Tatties bravas, mojete, paella, lemon garlic chicken and meatballs in tomato sauce I also had some easy cold tapas stuff like manchego cheese wrappped in parma ham, olives, nuts and crisps.  All stuff I have cooked loads which is why I decided to do tapas (again).  
As I was getting on with it Boris did do a bit of teasing which I wasn't in the mood for until eventually I told him, 'RIGHT, I've asked you to stop and you are still bugging me, I don't ever say this but I have been fucking amazing today, I've had a lot on, so back the fuck off and leave me alone to cook before I break!'  His charming response was to pull me in for a cuddle and tell me, 'Well now that's nothing new, you are amazing every day you big hairy fuck' silenced by the compliment and the cheek of it I took my cuddle and then told him to remove himself from my kitchen unless he wanted to cook.  
Our friends arrived and we started the sangria which was as delicious as it always is, We all grazed our way through the evening, kids went off to bed without a hitch so we sat and chatted until the sangria was long gone and we found our selves playing cards against humanity which had us all rolling around the floor.  I do realise I am the worst blogger in the world because I always forget to take photos, none of the finished food at all - sorry!  I was quite sensible and took myself off to bed at midnight, like Cinderella, because the dude had his yoga class on Sunday morning.  Boris joined me at 05.40 on Sunday morning and for some reason he took a selfie with me wearing my Bouncy Body shop face mask so I look super slick and shiny!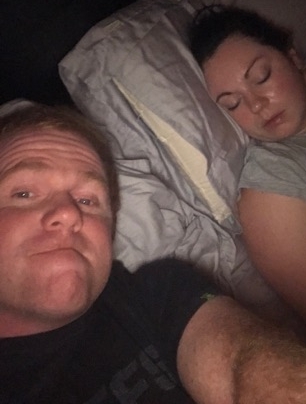 Miss A joined us both at 06.20.  Despite pleading from Boris to 'give it a miss' the dude and I shot off to Yoga at 09.30 which was just brilliant, we love it!  I was home in time to make everyone breakfast though.  I was meant to visit our local village Christmas fayre but decided to give that one a miss as our weekend had already been pretty full!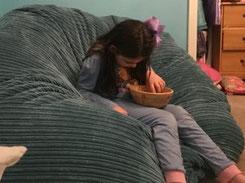 My mum arrived asking Miss A to do a prize draw and then to make things even more crazy JANE and her clan arrived!  5 kids, 4 hungover adults and Jane made for a 'legendary' hour or so but we finally got rid of all our dearest friends and fell into the sofa.  Miss A demanded her Daddy time as usual, The dude played in his room while I made a gazillion candles for Jane's up and coming Christmas sale.  Boris came through and offered to make tea - YES!  He made some delicious mince and tatties (his are way better than mine)  and everyone sat down and ate our dinner in a beautiful smelling kitchen surrounded by cooling candles.  Bath time, bed time and then all was still, the house was reasonably tidy and clean and Boris and I were able to sit down and watch Ghostbusters 2 on TV together! 
Everything seemed to work out pretty great this weekend even though we had loads on, all went well!  Miss A did loose her shit for most of Sunday but that's mainly because her routine was upset a few times in the week and she was forced to share her Daddy. 
I'm calling our crazy weekend a success!
So this morning I looked forward to 'sitting' then remembered that Jane had decided she and another of our friends were heading over to mine at 09.30 for pancakes and candle chat.  Totally fine though because I got up got the place swept and hoovered, did a couple of loads of washing and made up the pancakes.  The children were both well behaved this morning and it was great to sit down and catch up.  Jane was chuffed with her candles and when she removed the 3 large boxes the kitchen looked super tidy!  So now I am sitting in a tidy house by the fire with kids at school/nursery and all is pretty chilled.  
Phew!  We really did jam pack that weekend with fun, on paper it should have been super stressful but actually because I decided just to stay calm and get on with it everything just came together.  We had so much fun but I think we are all looking forward to a wee quiet one next weekend!