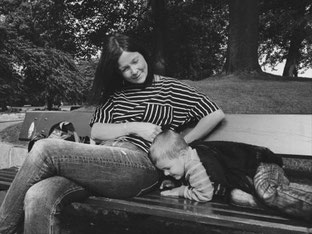 Hi everyone, my name is Jane (one of Linda Jo's best chums.)  I wanted to share a story with you,that I could never put on my personal Facebook page, but I feel its worthy of its place.  I hear a lot of people say that Facebook and Instagram are terrible for portraying "the Perfect" life in the pictures that people post.  Linda-Jo puts herself out there warts and all so I am going to share my "Perfect life" photo in this safe place.  I want to tell you the REAL story behind these sweet. relaxed looking photos.
My middle son Corey had just learned to ride his bike, so to celebrate we decided to go to the Duthie Park so he could ride like the wind for as long as he wanted! Unfortunately for me, I had my period, but hey, life go's on. As we arrived at the park all of a sudden I feel, the flood gates open, GUSH. Oh shit, I've majorly leaked everywhere. Right, ok I'll sort myself out so off I go waddling like a duck to the toilets only to discover that what lurked underneath my clothing was like something from a Horror film. Holly shit, its EVERYWHERE. So I started the clean up and sorted myself out as best as I could.  Almost ready to get back out there and enjoy the delight in Corey's achievement, now I just need to get fresh armory for the day ahead.  I went into my bag, only to discover NOTHING, not even a blinking Tena pad.  I cannot cut this day short because I was stupid enough to forget sanitary shit! WHAT AM I GOING TO DO?  Ah ha then I found my saviour.... my 8 year old disabled sons NAPPY!
Discarded my pants, popped on the nappy and let the day roll on! It was a bit lumpy and bumpy and if I bent over at all, you could see it coming out over the top of my jeans but hey beggars can't be choosers!
We had an amazing day, Corey was thrilled and my husband captured these beautiful memories of the day.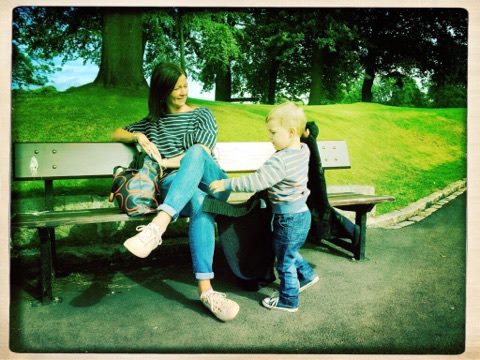 I'm hoping you will join me in my mortification and post what appears to be a perfect photo, then tell the true tale behind it!
Love Janey x