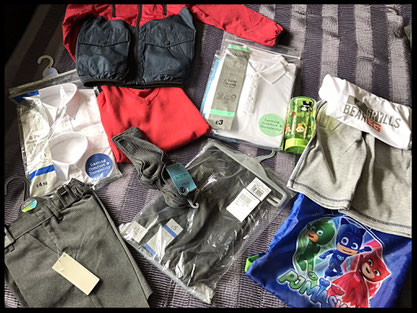 Naming school uniform, love it or hate it, we all have to do it.  We spend a fortune on our cherubs gorgeous little uniforms and always want them to look smart.  No one wants their kid to come home minus a jumper, cardi or wearing someone else's scruffy skirt,  So, we are forced to venture into the world of clothing labels.  
Back in my day everyone had the same name labels, they were white ribbon style tags that had your full name written in red, blue or black  embroidery, the really fancy kids had theirs written in italics.  They were mail order from a magazine I think or you maybe ordered them through school?  Your mum sat and sewed them on to every article of school clothing you owned.   Socks - the lot.  Some mums loved doing this, some mums hated it and others handed the whole task on to Grandma!  
At some stage things progressed, I don't know when but iron on labels appeared and mums were happy.  When Allissa started nursery and we were advised to name everything I went for the iron on label, my mum ordered them for me and chose pink writing, however decided to include her middle name, making them really long.  She also misspelled 'Anais' and wrote Anis which is pretty close to Anus.  So, I had to cut all those little Aniss' out, saving the now separated first and second names - the whole thing was a disaster.  I actually even struggled ironing them on, the iron had to be a specific temperature, you had to apply loads of pressure but no movement and hold for a period of time.  I'll be honest it wasn't ideal and certainly not as straight forward as I thought it would be.  Oh and loads of them fell off. 
When Allissa started school I decided to go old school and buy the old ribbon tags with embroidered names on them.  I chose red writing with a picture of a lady bird on for Allissa and for Freddie's nursery I chose green writing with a picture of a lorry.  They arrived, they looked great so I started to sew...F**k. that. s**t!  It took me pretty much twenty minutes to do one single label on Allissa's cardigan, so I went back to the pink iron on crap from nursery and used them again! I used the pink 'Archibald's for Freddie's nursery stuff and the 'Allissa's for her school clothes.  Lesson learned, I do not sew.  
I went from being an optimistic first time mum to a mum of two who knew she hated sewing and wasn't particularly impressed with iron on options.  As I started to think ahead to Freddie's entry into school I already dreaded the expense and the effort I was going to have to go to.  Someone suggested I just use a pen to write on clothes labels but I have noticed in the past that the ink seems to spread out and run and both of my kids have reasonably long names which is a pest.  
Then Petit-fernand got in touch!  They invited me to review their product, awesome, decision made.  I had a look on their website and was so impressed by the choice of colour, design and fonts. These labels are so beautiful, every colour of label and writing is there for you to chose from.  You also get a choice of motif, I think this is great for little ones especially because even if they cant read their name yet they will know their picture and colour of label so it makes it easier for them to recognise their own belongings at school or nursery.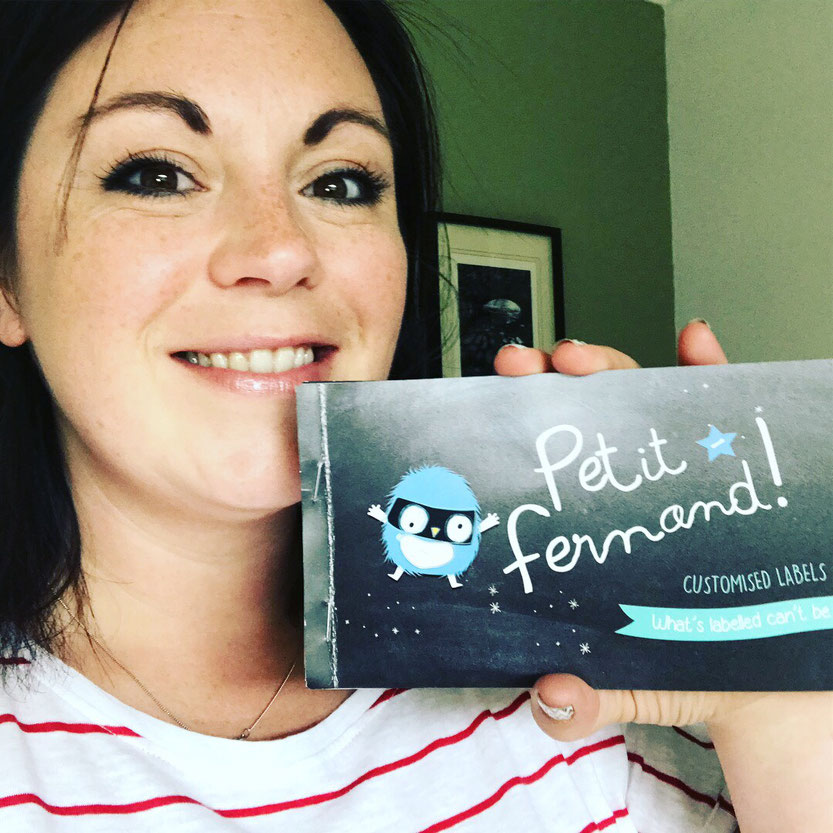 Freddie is obsessed with red and dogs so I had to chose a selection of red labels and I crossed my fingers that they had a dog picture available.  Thank goodness they did!  But so much more too, gorgeous woodland creatures and unicorns, so many sweet things to choose form.  
I ordered the School Value pack which was £30 and gives you a range of all you need for school, 140 name labels.  I thought there were quite a lot of 'item labels' so, because you can edit each set of labels in the booklet I actually used one page of 'item labels' for Allissa as she would need some labels for her water bottle and bag etc... so I changed the colour to purple (of course) and popped her name on.  
The post came within a few days and I was delighted with how they looked.  They are presented in this booklet keeping them all together so you wont lose them.  There is an application guide at the front too so you know how to apply them properly to be sure they stick for the year and not just till the first wash.   You also get a selection of funky stickers which the kids were utterly delighted with, Allissa's new Race running helmet is suitably adorned with rainbows etc... as well as being clearly named!
I used a set of shoe labels right away for Freddie's new indoor nursery shoes, they come with a protective film which appears to be a game changer.  I have had shoe labels before and they have come off eventually.  These bad boys however STAY PUT.  Freddie wore his indoor shoes at nursery for a month or two then used them as summer shoes for exploring the garden, beach, castle grounds and many many puddles.  Consequently these little canvas pumps were washed and washed over the summer holiday.  Those labels are still in there and he is off to school with them, after one final wash, to be used as gym shoes.  I think thats a pretty fair test of endurance.  
I labeled up his uniform in a flash, being careful to follow the instructions and attach the clothes labels to the labels of the garments and not the clothing material itself.  
I LOVE THESE STICKERS.  So so so easy to pop on in seconds, they look great and they stay put.
The uniforms have all been worn and washed and all is still well and named.  
Loads of item labels to be used on bags, water bottles and lunch boxes, even pencil cases, pens and pencils can be labelled with the small ones.  Freddie loves the bold colour and the picture means that he instantly recognises his label.  
When ever I do a product review I like to offer an honest and balanced opinion, however on this occasion I am actually struggling to come up with a negative comment to make about this set of labels.  Im a real fan and would not hesitate to go right back to Petit-fernand next year for another set.  I still have plenty left over so I think Ill probably manage to stretch this set out for P2 as well.  
Have you used this company for your child's school labels?  What was your experience, I'd love to hear how others got on with them.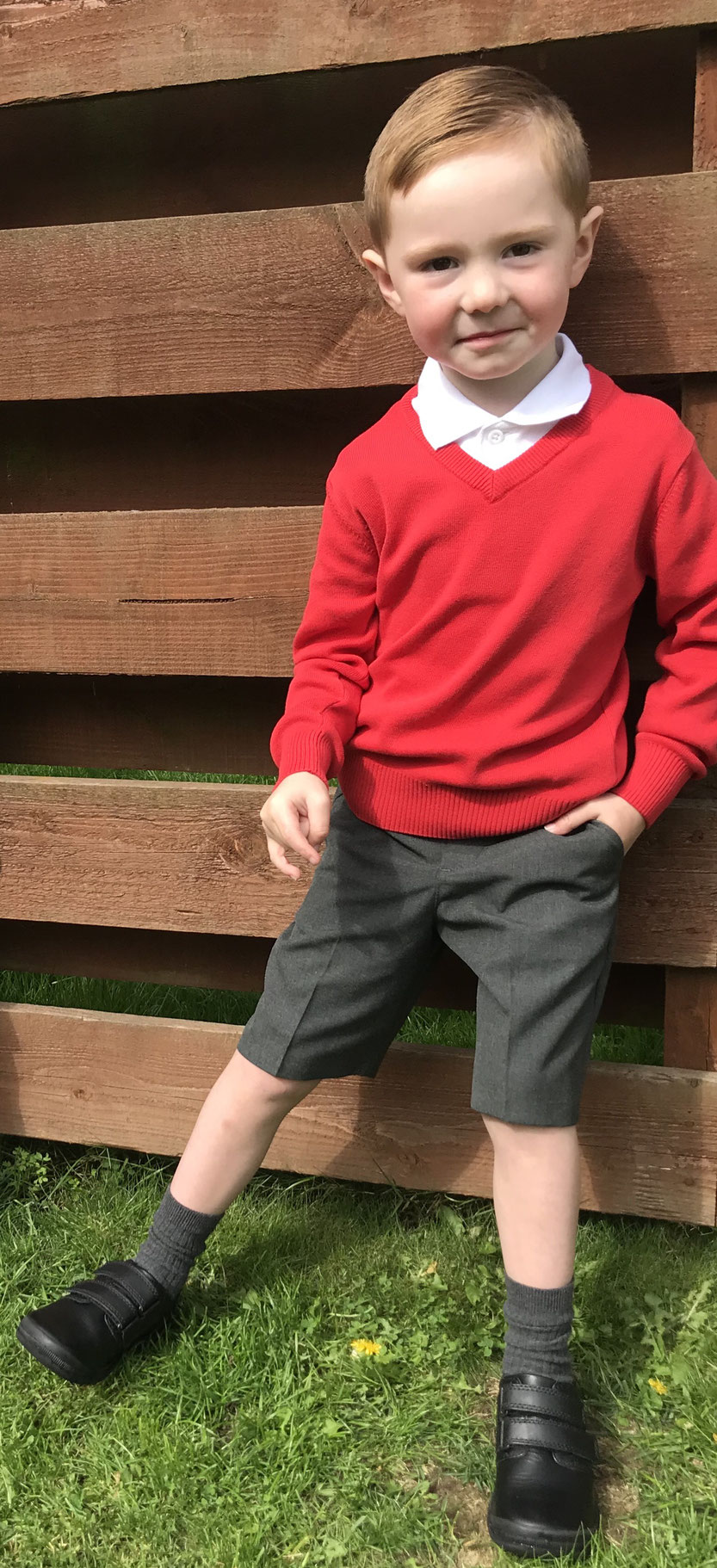 ---